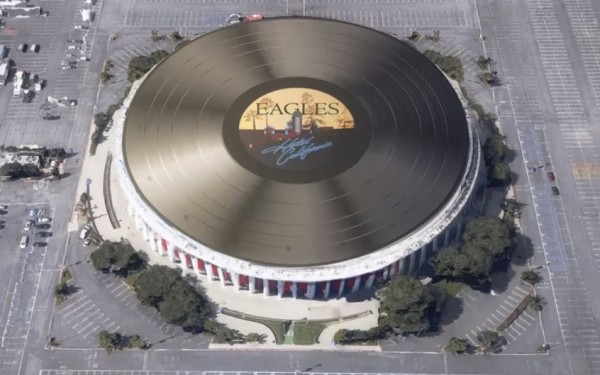 The world's largest record on top of a building! The Eagles' iconic album "Hotel California" has been placed on the roof of the round shaped Forum venue in Los Angeles to celebrate its reopening. It's the world's largest record to date. The promotion is to celebrate the reopening, which will feature a run of six shows by The Eagles in January. The album released in 1977 has sold over 32 million copies worldwide. The replica is about 4,884-inch in size and spins at 17 miles per hour (or 70 rpm). Passengers arriving at LAX airport should be able to spot the spinning record from the airplane. But where is the needle to play it?
Watch the construction video with facts & figures:

Click HERE to watch the video on YouTube.