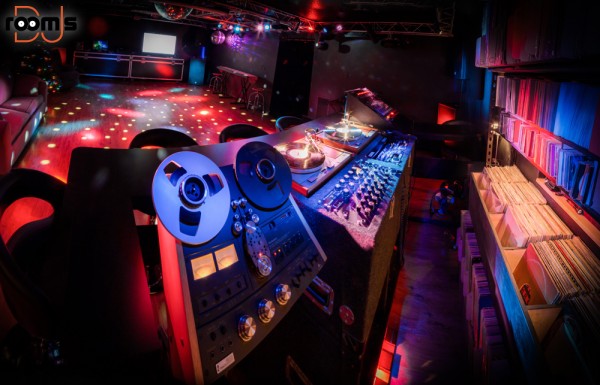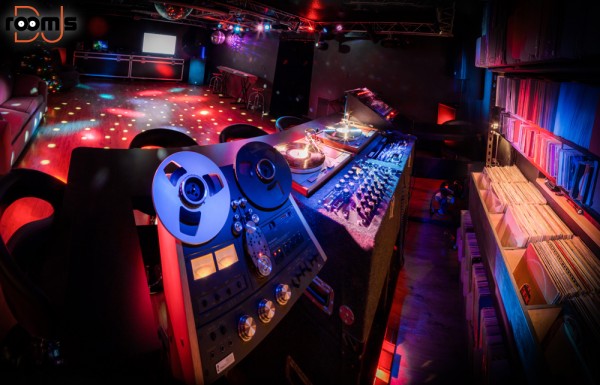 Ever thought of building your own club in the basement having a good time with your friends? Joey Madonia from Florida did so and made his dream come true with this overwhelming DJ room inside of his house. As a Disco pioneer from the 70′s and Light & Sound Technician, he was responsible for many installations in some of the most popular clubs in New York and Florida. Joey has worked together with Larry Levan, & Michael Brody (Paradise Garage) and had close association with Richard Long and performed side by side with many big names in the House and Disco scene during the past 40 years. In 2013 he put everything together using his 30 years of work experience and 40 years of knowledge to buidt the perfect and unique club room. It took him 7 months to built his very own 'DJ Heaven'. We are really proud to share these wonderful pictures of the buildup process and the finished room with you. And of course we had a really detailed interview with Joey for this project. Is this THE ultimative DJ room?
Hello Joey,
thank you for your time and effort to realize an article about one of the biggest projects in your life here on DJ rooms. As many of our contributors, you posted a picture of your room on our facebook wall. We first couldn't believe that this is a room inside of your house and not a well known club in one of the big cities. Can you introduce yourself to our readers?
I was born in Brooklyn New York. The first club I went to was special, not only because it was my first, but it was coincidentally the best example of what was to be the standard of this thing where a DJ played on two turntables in his own separated space (The Dj Booth) with a dance floor, sound system & light show. The club was called "The Sanctuary", starring the father of the mix himself, DJ Francis Grosso. This club inspired me to start my record collecting. Before long, I had every record the DJ played in my collection. Having all this music, I would not want anyone to handle my records fearing they would scratch them. Back in the 70's, the records that were being played where very rear and very difficult to find. I was the only one to play them when the time came for a party.
I must have went to almost every club in Manhattan, Brooklyn, Queens, New Jersey, and wherever I heard of a club that was worth going to. By 1972 I decided to take up DJ'ing professionally. Between Dj-ing and going to all the clubs, especially the underground clubs such as "The Loft", "The Gallery", Richard Long's "Soho Place", Reed Street" (Where I met Larry Levan), and working in the booth with Larry Levan as Light & Sound Technician, I was able to accumulate an arsenal of knowledge on sound & lighting. In 1977 I moved to Ft. Lauderdale Florida. Michael Brody was about to open the Paradise Garage, Larry asked me to be his Lighting & Sound Technician in 1978 and I excepted. Again in 1981 Larry asked me to return to the position of # 2 in the booth as Light & Sound Technician. After feeling it was time to move on again, I was on my way back to Florida for good. I continued to DJ in many clubs in cities all over Florida, Miami, Ft. Lauderdale, and Palm Beach. During my DJ career, I always knew who were the Sound & Lighting companies building the clubs or, supplying the equipment, whether in New York or Florida. I had the privilege to be close friends with the late Richard Long, Alex Rosner, Robert Lobi & Frank Dinges of Design Circuit Inc. These individuals were responsible for all the major clubs during the 70's & 80's. In Ft Lauderdale Florida while in between DJ jobs, I met Tommy Mannino of TM Sound & Lighting, I asked Tommy if I could work with him until I got my next gig, I liked it so much I stayed fulltime & DJ'ed nights.
This man was not only installing Sound & Lighting in just about every club in town, he was a master carpenter, he did metal fabricating, video installation and speaker reconing, he also did custom electrical for Sound, Lighting & video systems. Tommy (TM Sound) was already an established company, I was able at times to contribute the New York Sound & lighting experience, and on occasion, Tommy & I created some great things together. All the things I loved over the many years from being in clubs, all of a sudden were possible for me to create on my own, because of my education at TM Sound & Lighting on how to manufacture & install Sound, lighting, Video, and, custom wood & metal fabrication. I became Tommy's right hand man & chief installer and fabricator, and did it all for a period of 15 years, I friggin loved it. I finally found my place in life. I also became an Electrician and apprenticed for several electrical contractors in between. I left TM Soun. In 1999 and opened my own business called "Custom Made Systems Inc".
So you are one of the real disco pioneers! No wonder you wanted to use all the knowledge and create your very own club. When and why did you start bulding your room called 'DJ Heaven'?
While married & raising a Son & Daughter, one day my kids were not kids any more & my wife decided to seek other things in life which did not include me. I was alone. My good friend DJ Chris Hagood called me up one day to do a guest spot at the River Shack in Miami, where I also met Esther Flores that night. I asked DJ Chris & Esther Flores what was the club sean like these days and where was the places to go to in 2012 that played the kind of House we liked and some classics, they replied, except for when Louie Vega comes to town "There's nothing". I never thought the day would come when I would hear someone say that. I looked around my Home and realized not only do I have the space to create a Real DJ Room, I had most of the equipment, packed away from years of accumulation and from doing Winter Music Conference. I realized I had too much history to just let it die with me. It was time to be Joey again and share. I slept on what they said to me that night. I woke up around midnight and I decided to build an environment that reflected as much of the key elements from the Club life that I experienced from 1970 till present. I walked up to the dividing wall between the two rooms in the back of my house and stared at it for a minuet, then with one strong blow I put my foot through the wall to the other side, I bent down and looked through to the other room and said to myself " I'm committed now". I immediately called my good friend Esther Flores and said, I just put my foot through the wall, I told my friend what I planed to do and surprised the shit out of her. I went to bed after that and tried to sleep but jumped out of bed and began tearing off all of the drywall on both sides of the wall. I felt better and went back to sleep. That's how it started, that was the beginning of what was to be called "DJ Heaven". Another main reason for the development of DJ Heaven was equally important as the preservation of the culture, it was to provide a heaven for those special people that were lovely in music and personality. Once a month we get together at DJ Heaven, some of the greatest DJ's in south Florida and around the world play here. Everyone brings drink & food, the vibe is awesome. WELCOME TO DJ HEAVEN.
I built 'DJ Heaven' in 2012. I spent the next 6 to 7 months designing and building the 30′ x 20′ space from the ground up. Fortunately for me the dividing wall between the two rooms was not load bearing and could be removed without any additional reinforcement. Once the wall was gone, the real work began. The work was tedious and hard but it had to be done right especially because it was in my home not to mention my reputation . Scraping the linoleum off the floor on one side of the room was a bitch, even with the proper tools. Next was to tape off all the windows and window frames so we could spray paint the entire room Black Satin. I wrestled with the idea of the color choice, lets face it, it's still my home. But in order to replicate and make effective the illusion that is created in a club with lighting, it had to be all Black. Next was installing the flooring, I chose wood grain to replicate the floors in the old Lofts in New York City. The floor was a tough job since the room was 30 feet by 20 feet long, I spent a lot of time on my knees. Next was the 8×8 square aluminum trussing, before I installed the trussing I had to mock it up on the floor to see what configuration would fit on the ceiling, I had originally purchased the trussing to free stand on the floor when doing gigs at WMC. After playing with it, to my surprise, every piece worked out perfectly for this size room, like it was made to be here. The only thing I had to do to the truss was fabricate some special plates to couple it and the usual hardware to fly it off the ceiling. After looking at the silver trussing contrasting off the Black Satin paint job, the shit was dope and I'm glade I chose Black. The trussing is not only a necessity, but it also adds to the theme of the club look, it carries all the light fixtures, effects & tweeter arrays.

A 30′ x 20′ space… That's absolutely amazing. It looks like you've built a masterpiece of a club and you left nothing to chance. How did you build your booth?
Building the record rack took some thought because of many reasons. The first being I had to incorporate 12″vinyl, 7″ vinyl, & Cd's. It had to be workable wile DJ-ing also. It's amazing what you can do in a small space if you take time to engineer it well. The record rack holds 12″ vinyl in a library style, below & above, while directly behind me, they are also stored in the traditional flip through bin style you would find in a club DJ booth. 7″ 45 rpm records & Cd's are shelved library style under the 12 inch records above the bin. Hand made track from aluminum extrusion hold rope lighting and is controlled by a dimmer in order to illuminate the records in the bin. There is no better feeling then having all your friends not only on the dance floor, but also as close to you as possible, so I built a custom wraparound bar top and added six beautiful hydraulic operated chrome bar chairs with vinyl covered seats & backing.
The lighting console and Dj console is also hand made. Last in the booth is the custom hydraulic stand I made for the vintage Technics 2 Track Reel to Reel. In attendance is a special item in DJ Heaven, a gift from the lighting operator that preceded me at the Paradise Garage & close personal friend of Larry Levan, King Michael Morton Sampson has graciously & lovingly gave me two of the four Auto Poles that Larry Levan had in his apartments, I remember them when I lived with Larry on Gold street during my first commission as lighting operator at the Paradise Garage, only because of my special close association with Larry and my heart felt dedication to the culture did Michael give them to me to display & share with all who enter DJ Heaven.
And as a sound & lightning technician, I'm sure you had a lot of quality standards to fulfill your needs in the room. What lighning and effects equipment did you use and what other wishes did you fullfil yourself?
Starting with 32 old school par 36 pin spots that are controlled by a vintage early 70's Meteor Sound & light SonaLite 4 controller, I chose this controller because it has two special features, one, it has a built in 1200 watt dimmer pack inside of it with the ability to connect another 1200 watt slave pack. But most important and my favorite feature is the 4-way built-in crossover sound activated color organ to activate each channel of lighting individually with fader sensitivity adjustment for the – LO, LO/MID, HI/MID & HI. Each of the 4 channels will respond according to the frequencies mentioned with precise accuracy. Amazing effect. The pin spots are colored with the old school Rosco Gel paper, giving me dozens of choices of colors to pick from. Two Martin MiniMac Profile moving Head lighting fixtures with GoBo's & Color wheels rock the dance floor & the 36″ half Mirror ball witch lives in the center of the ceiling of the room surrounded by Trussing. All the Pin spots beams of light along with the MiniMac beams off the mirror ball are brought out with intensity with the help of a JEM FX2 Fogger. Four American DJ Megaflash 800W DMX Strobes grace the four corners of the truss with four different Rosco color filters and are connected to a American DJ S- 4a/dmx controller, this controller has many preset patterns plus audio response.
I also have the ability to trigger the strobes via a modification I made using a foot pedal on the floor where I stand in front of the mixer, I have five custom foot pedals which can override some of the controllers in the lighting console, (The foot pedal idea cam from when I was lighting operator at the Paradise Garage), the white lights were the only lights on a foot pedal, I took it a few steps further and added the ability to control not just the white lights, but other lights as well, giving me the ability to accent parts in a song spontaneously without having to convey to a light man what was going to happen, by the time I could tell the light man, the moment would be lost. I also have a 4′ fluorescent black light, two banks of four par 56 flood cans for a room color wash, four were colored with half deep amber and half magenta using rosco gell, and the other four were colored half turquoise and half cobalt blue using rosco gell.
Along the length of the trussing on each side of the room are remote controlled 8″ round fans mounted to the trussing to cool the people when things get fired up on the dance floor. There are two additional mirror balls aside from the 36″ center ball, on each side at the end of the trussing with independent lighting and motor control. Two 800 watt Quartz flood lights are present, one on each end of the room for the ultimate white out.
All lighting & effects are mounted to 160 feet of 8 x 8 professional aluminum stage trussing with 1 1/8″ thick tubing for a nice low profile look.
You also handed us a huge list with other equipment you use in your room. I'm sure our readers will love to see this.
Speakers:
Four EV QRX 218S Dual 18″ Base Reflex Subs, one per corner of the room.
Four EV ZX 5 – 15″ Two-Way Full -Range, one per corner atop sub.
Two custom (four tweeters in each) Tweeter arrays, Designed & built by Joey Madonia
Amplification:
Tweeter arrays are powered with a vintage Crown D-120 480 watts
Two ZX5 full-range cabinets (Right Channel) are on one EV CP3000S Amplifier in Bridged mode.
Two ZX5 full-range cabinets (Left Channel) are on one EV CP3000S Amplifier in Bridged mode.
Total full-range amplification is 6400 watts
Each dual 18 sub cabinet is powered by one EV CP3000S Amplifier in Bridged mode equaling 3200 watts each, that's 4 x 3200 watts which equals 12800 watts total on the sub base alone.
Total system power amplification = 19200 watts.
Note: When you build a sound system, build it with plenty of head room, I don't use 19200 watts, but because its there, so is the head room, and head room equals clear clean audio reproduction. Make no mistake about it, everyone who enters DJ Heaven enjoys the system when I play it low because of the clarity., and at low level it still has punch.
Pre Amplification & Sources
Urei 1620LE Music Mixer
Rane AC 22B Two-way stereo crossover, (runs the subs & full-range only).
Vintage – Powers FEP 204 Four Way Crossover / Inline EQ , I use this as an inline overall except for the tweeter out witch goes directly to the Crown D-120 to run the tweeters.
Vintage – RLA Q5000 Five Band EQ.
Midas XL42 – Dual Channel Creative Equalizer incorporating the XL42 four-band Parametric Equalization and XL4 Mic/Line Pre-amplifiers.
Vintage Technics 2 Track 1500 Reel to Reel
Two Custom Vintage Thorens TD 125 Turntables with custom Teak Plinth & Maple Tonearm Boards.
Two Vintage Grace G-747 Gyro Master Carbon Fiber Tonearms.
Two Stanton Magnetics 605 SK Cartridges & D6500 SK Stylus, Freq. Response 20 – 18khz
Output Voltage 6.6 mV, Tracking Force 2 – 5 Grams, Perfect specs, DJ rugged & great sound. Stanton Magnetics – Since 1946. The number one Cartridge & Styli for DJ's since 1970.
DENON DN-D4000 Dual rack mount CD Player
In attendance – McIntosh 2105 Power Amplifier
Joey, thank you so much for sharing these pictures and your thoughts with us and our readers. This is an amazing work. You created a real DJ Heaven. Please keep this going and alive!!!